FREE SHIPPING ON ORDERS OVER $50!
*Within the Contiguous United States*
---
Please Contact Us for Shipping Outside the Contiguous United States!
---
Add a 3 PACK of these handy T-Bolts for replacement or if you loss them
---
Customer Reviews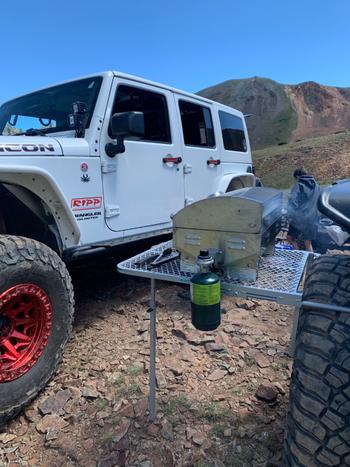 08/11/2020
Tire Table
Tire table worked great and was exactly what we expected! We had a chance to trail test the table on Imogene pass in Ouray last weekend and it worked perfectly, we can honestly say it's trail tested! Mike
Mike M.
United States
12/15/2020
Large table bag with extra t bolts
The bag is great. Nice size plenty of room for getting the table into the bag. I love that it has a pocket.
Kim L.
United States
11/26/2020
Tailgate tire table
Love it perfect addition for my teardrop
Lysle H.
United States
11/03/2020
Needed Xtra's
got extras I know I'll need them. Because I misplace things , break things because I'm OLD
jamie p.
United States
11/02/2020
Be prepared. Extra T bolts are a good idea.
For the nominal cost, having an extra set of T bolts on hand is a good idea. They can can be lost or mislaid resulting in down time to track them down or find a substitute. Just good to be prepared and I am glad they are offered along with the table. Also appreciate the newer carrying case with the small pocket for storing the extra bolts.
John W.
United States