FREE SHIPPING ON ORDERS OVER $50!
*Within the Contiguous United States*
---
---
The Aluminum TailGater Tire Table: 


Made of Aircraft Grade 6061 aluminum, powder coated Silver finish.

Durable travel table that uses a vehicle tire for its main support.
Weighs Just 6 lbs

Easily Holds 50lbs

Stable and level regardless of the ground conditions

Retractable leg for extra support

Fits most tire sizes 14" and up

If your fender is extremely close to the tire, it may not fit

No tools required for installation

No hitch required

Installs within seconds

23" W x 29" L x 1.5" thick (Standard Size)

Powder coated silver finish

All parts are included and are stored on table, including t-bolts

Not meant to be used as a seat or a step
Great for Outdoor Vehicle Adventures:
Overland Excursions
Tailgating of every kind
Camping
4 Wheeling
Hunting
Fishing
Car Travel
Car picnics
RV'ing
Camping
Motorhomes
Biking
Construction Sites
Automotive Work

Design by TGTT in Nevada
---
Customer Reviews
03/02/2021
Great Product, Easily Mounted on Tire, Compact and Easy to Stash in the Van
I learned about the Tire Table via the Sportsmobile Facebook page, folks were really happy with both the aluminum and steel tables and recommended the Tire Table for its easy tire mounting and compact design. I purchased the aluminum table and I have used it on several boondocking trips with my van. It fits perfectly on the large 4x4 size tires.
Kim A.

United States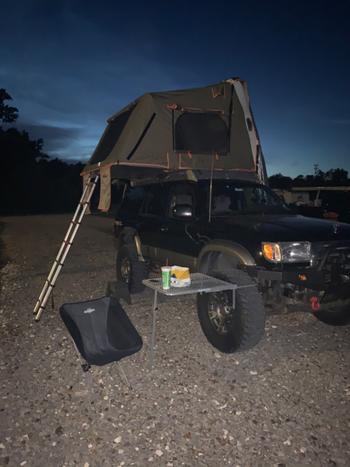 07/07/2020
Light weight and easy to use
I've used the table as a work bench when working on the Truck and I have used it as my dinner table when camping. Light weight and easy to use. Very handy to keep in the truck at all times.
Geoffrey W.

United States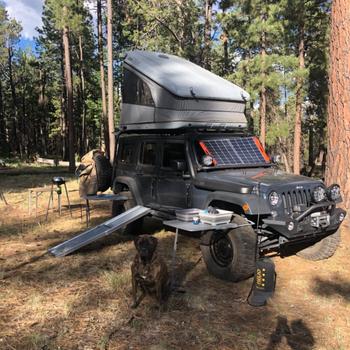 07/04/2020
Upgrade
We had your steel table and couldn't wait till the aluminum one came out. Totally worth the wait.
Mark P.

United States
06/30/2020
Best thing since sliced bread
So I got this table for Father's Day, I put it to use this last weekend of June on the Hole-in-the-Rock trail. I left my regular table at home so I could put it through the paces and really see if it would hold up like they claimed. I have to say I was very impressed by the quality and the just how it looked overall. We used this during the evening as a kitchen table, everyone in camp herd me talking about it and come to check it out. I know one guy bought a table today already because he liked it so much. We was able to put 3 people up to the table for dinner with plenty of room for other things also, the table is adjustable and very very sturdy and didn't wobble around with us cutting steak or our dinner at all. I would highly recommend this table to everyone and I hope you enjoy your table also. Customer service is very very good I was impressed with my service, Patti went above and beyond in my opinion thank you very much fan forever Brent
Brent J.

United States
03/29/2021
camping table
I really love this table. I used for different uses when camping. Also great when not taking the jeep out and taking the suburban out for a day trip. Super lite and take very little space. I might get another...
Jose C.

United States