---
---
As Seen On
Large Steel

Powder-coated
 steel construction with 

Black

 

finish

Overland camping table that uses a vehicle tire for its main support
Weighs under 16 pounds

Easily Holds 75 pounds
33.5" L x 28" W x 1.5" H (add additional 2.5" in height for the rear slider)
Fits 30" tall tires up to 50" tall tires
The rear slider opens up enough to fit a 20" wide tire
The rear slider can be flipped over to get a better grip on the rear of the tire
The rear slider & back of the table must engage the tire for a snug fit

Stable and level regardless of the ground conditions

Retractable leg for extra support.  Use straight or angled towards tire / rim

If your fender is extremely close to the tire, it may not fit.

But in some cases, it can be angled while installing. (See video on installing page)

No tools or hitch required for installation. 

Installs within seconds

All parts are stored on the table, including t-bolts

Not meant to be used as a seat or a step
Great for Outdoor Vehicle Adventures:
Overland Excursions
Tailgating of every kind
Camping
4 Wheeling
Hunting
Car Travel
Car picnics
RV'ing
Camping
Motorhomes
Biking
Fishing
Construction Sites
Automotive Work
Military Use
Design and Patented by TGTT in Nevada
---
Customer Reviews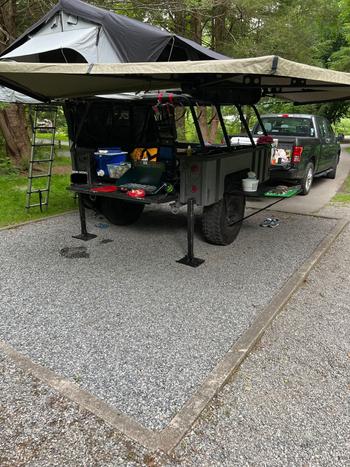 07/09/2022
Great Table
Table works great. I use it on one of the wheels of my off-road trailer And couldn't be happier. Very sturdy.
John N.

United States
05/01/2021
Accompanies me on every adventure
THEE best item I have in my adventure/overlanding gear arsenal! I purchased mine along with the handsome carrying case over a year ago. I have it stored continually and will NOT remove it from the back of my FJ. Whether it be launched on every night of a roadtrip as my China Cabinet/Kitchen table or simply at the park or beach for a convenient flat surface, it preforms every task...I swear Santa ate his cookies from the table early one Christmas AM! Now, this is the coup de gras...I, me, no one else stripped the welded nut on the Drop Leg and was ready to purchase #2 and use the original purchase as a back-up or gift to my son. However, a simple call to Tailgater and wah lah, new parts are on the way and I don't have to rehome my Tailgater. Run, don't walk to purchase this life saving, convenient apparatus that nearly brews your coffee in the morning by itself- ask Santa. I'll be purchasing this item for friends and family as gifts, so they too can have that special cup of coffee! Thx Tailgater!!
Paul D.

United States
06/30/2022
Well Built and solid
Perfect set up for my truck camping rig.
MICHAEL G.

United States
05/07/2022
Great Addition to Overlanding
First, I called customer service with questions on product and to get a shipping quote to Alaska and my experience was fantastic! Patty and I talked about the different tables and which one might be the best for the application I needed. Table arrived quickly and in perfect condition. Installation was simple and quick! This table is going to make overlanding just that much more enjoyable as a working surface is always a luxury in the field. I can put this versatile table on any of the four wheels or on the spare for an elevated working surface. This table will certainly fit the bill nicely for my needs. Thanks guys for an innovative product and great customer service.
Chris

United States
02/23/2022
Large Steel Tire Table
Excellent in every regard! I can not recommend the Tire Table high enough. Design, Fit, Function and Quality is outstanding! This is a must have item for every campsite. -Paul Livermore, CA
PAUL A.

United States