FREE SHIPPING ON ORDERS OVER $50!
*Within the Contiguous United States*
---
---
As Seen On
Available for Standard Size & Large Tables
Carries and stores your tire table safely and securely
Has exterior pocket to store small items. Example: T-Bolts
Standard bag fits 1- 2 standard tables
Large bag fits 1-2 large tables and is 4" wider and longer then standard bag. A standard table will fit in this bag with extra room for storing other items
Made of Cordura Nylon
---
Customer Reviews
08/06/2021
Tire Table Storage Bag - Strong
The storage bag is strong and keeps your tables clean and protected when its stored in your garage or vehicle. The bag can hold two standard size tables with still some extra room left over. We also place our 100watt solar panel inside. When not in use we hang them up and since its so low profile we can place our other tools in front of it. Not taking up much room at all but easy enough to grab and go.
Jeeps R.

United States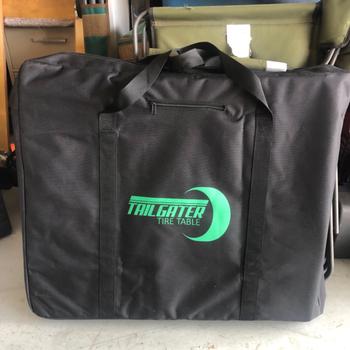 04/12/2021
Awesome product
This makes transporting tire tables easy. Keeps them from getting damaged or causing damage to the interior. This bag is big enough for two standard tables plus my portable solar panels. Win, Win
Mark P.

United States
03/17/2021
Great product!!
Super easy to use. Sturdy and well made. Very happy with it!
Deborah S.

United States
08/24/2021
Love it
Very roomy - stores table sideways
Annette G.

Canada
07/28/2021
Use it often
Love it Me and the jeep don't go anywhere without it
jamie p.

United States