FREE SHIPPING ON ALL ORDERS!
*Within the Contiguous United States*
---
Please Contact Us for Shipping Outside the Contiguous United States!
---
Back In Stock
The Original TailGater Tire Table: A steel, durable travel table that uses a vehicle tire for its main support.
Stable regardless of ground conditions

Retractable leg for extra support

Fits most tire sizes 14" and up

If your fender is extremely close to the tire, it may not fit

No tools required for installation

No hitch required

Installs within seconds

Weighs under 12 lbs

23" W x 29" L x 1.5" thick

Powder coated finish

All parts come with and are stored on table, including t-bolts

Not meant to be used as a seat or a step
Great for Outdoor Vehicle Adventures:
Overland Excursions
Tailgating of every kind
Camping
4 Wheeling
Hunting
Car Travel
Car picnics
RV'ing
Camping
Motorhomes
Biking
Construction Sites
Automotive Work
Design by TGTT in Nevada
---
Customer Reviews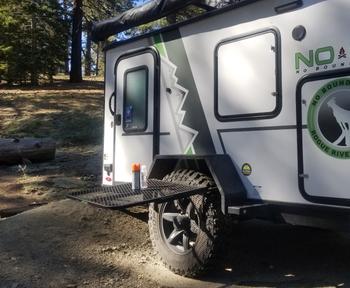 07/08/2020
Best camping item I have bought
We use this table everytime we camp. It has been a life saver and so easy to put away and set up!! Surprisingly, there is lots of room for all 3 of us to eat, cook, and use it as a vanity table. Very functional!!!
Jennifer R.
United States
07/04/2020
1st camping trip
We are on our way home from camping in the Grand Canyon's North Rim. We love it. Perfect addition to our camping gear
Fatima S.
United States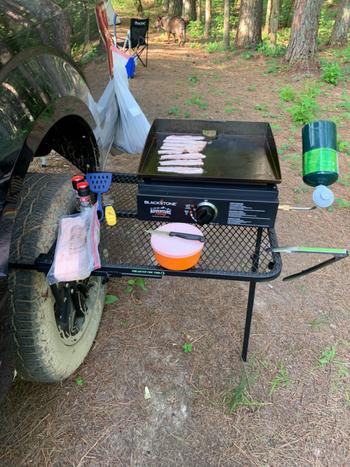 06/23/2020
Awesome product
I've used it one weekend so far. Very useful and stable. My only knock would be it doesn't have a case or a bag. I've put it back in the box it came in to store it
Ben M.
United States
06/25/2020
TailGater Tire Table
Hi Ben, Thanks for your review and photo. We do offer a bag for $39.95 and if you would like to order one you can use DAD20 to receive a 20% discount. That code will expire on June 30, 2020. Thank you again.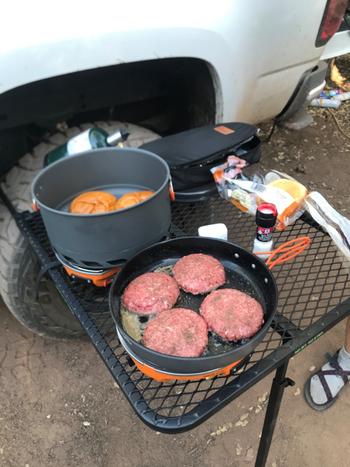 06/23/2020
What an idea...
Worked great and didn't take up a ton of room...this table is a great idea
Jimmy Z.
United States
07/01/2020
Best portable table. Simple to use but solid!
I was a relatively new teardrop camper owner and had noticed an ad on Facebook for your tailgate tire table (sometime in 2019). With flat space at a premium for tiny campers, I thought it would be good to add, so I bought one. Needless to say, we love it! It has gone with us on trips from Michigan (home) through, IN, IL, WI, MN, SD, NE, and Iowa. We always have it while camping, but we also have started to always have it in the car with us. During Covid-19, it's been nice to meet friends or family at nearby parks, set up the table and cook a meal outside. Since most restaurants near me haven't been open until recently, we've often gotten takeout, found a quiet spot in a nearby parking lot, pulled out our tailgater and our chairs and had a picnic. What I'm trying to say here is that, "I'm a fan"!
Lisa
United States