FREE SHIPPING ON ORDERS OVER $50!
*Within the Contiguous United States*
---
---
Available for Standard Size & Large Tables
Carries and stores your tire table safely and securely
Has exterior pocket to store small items. Example: T-Bolts
Standard bag fits 1- 2 standard tables
Large bag fits 1-2 large tables and is 4" wider and longer then standard bag. A standard table will fit in this bag with extra room for storing other items
Made of Cordura Nylon
---
Customer Reviews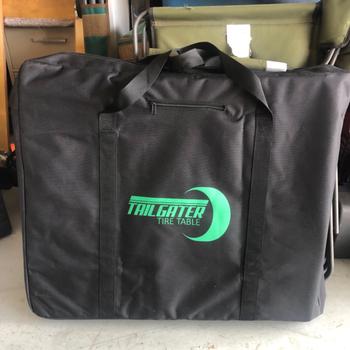 04/12/2021
Awesome product
This makes transporting tire tables easy. Keeps them from getting damaged or causing damage to the interior. This bag is big enough for two standard tables plus my portable solar panels. Win, Win
Mark P.

United States
03/17/2021
Great product!!
Super easy to use. Sturdy and well made. Very happy with it!
Deborah S.

United States
04/15/2021
Overlanding Bar!
Easy to set up and holds so much. Aside from being a extra table it makes a great outdoor bar. Love it!
Kim R.

United States
03/01/2021
Very Handy Bag
Well made, quality bag. Great for storing our Tail Gater Tire table in the bed of the truck
Jane S.

United States
02/02/2021
It's a bag!!
The item is exactly as expected and fits the table great. Wish it was included with the table or a bit cheaper in price. Very good quality though!
Tim M.

United States